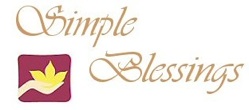 A beautiful selection of Christian and Catholic gifts delivered straight to your door
Sorry, we ONLY ship to the UK and Northern Ireland at this time.
---


CUSTOMER NOTICE: - Simple Blessings is CLOSED for holidays until the 2nd July
all orders received during this time will be processed on the 3rd July . Many thanks and God bless

PLEASE NOTE . This order will only be DESPATCHED Week Commencing 2nd JULY
due to our annual holiday - Sorry for any inconvenience caused.