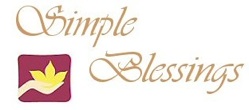 A beautiful selection of Christian and Catholic gifts delivered straight to your door
Sorry, we ONLY ship to the UK and Northern Ireland at this time.
---

Now with FREE Delivery on orders of £150 or more!
---


CUSTOMER NOTICE: - Simple Blessings is now CLOSED for the Christmas holidays until 2nd January
Orders can be placed during this time but will only be processed on the 3rd January
Wishing you all a very Merry Christmas and a Happy New Year!